Rod Hunt was commissioned to design a bus sculpture for Transport for London's Year of the Bus Sculpture Trail that took place in London from October 2014 to January 2015. The launch event took place in London's Trafalgar Square on 17th October 2014. Rod's bus was on display in Victoria Street, SW1 from October 20th for seven weeks before moving to the Queen Elizabeth Olympic Park.
Quote: "I found inspiration by looking at the Key Bus Routes in central London map & seeing that it almost looks like the map is spelling the word "Bus" in the route lines."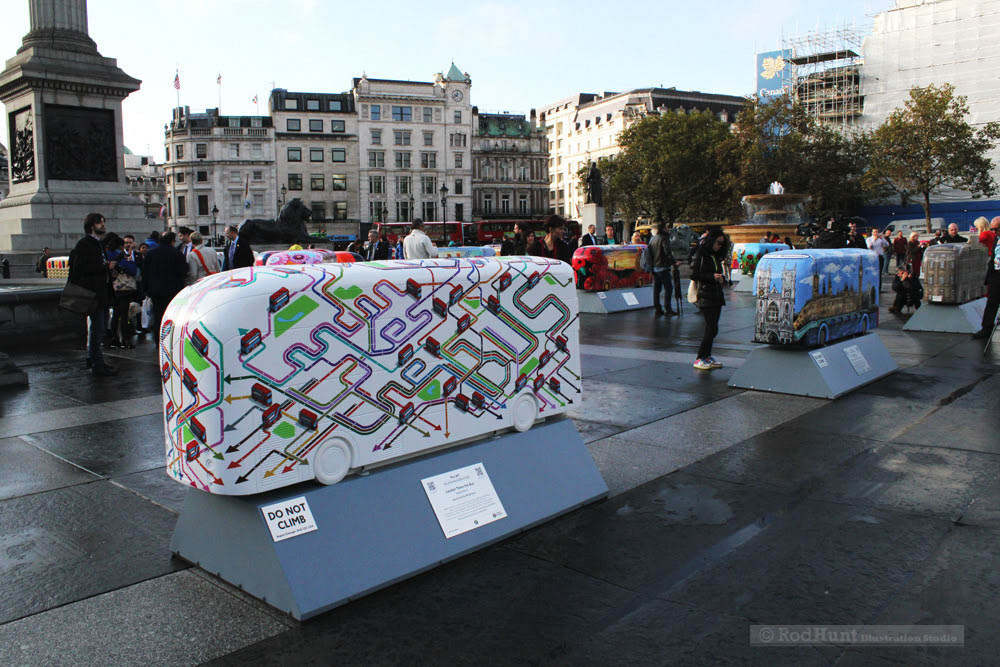 Up to 60 New Routemaster bus sculptures will be unveiled across London in October as part of celebrations to mark the Year of the Bus. The bus sculptures, which are 2.5m long, 1m high and 0.5m wide, will be painted and adorned by well-known and aspiring artists to showcase the vital role that London's buses play in the life and economy of the city and the UK as a whole.

Londoners and visitors to the city will get the chance to discover the bus sculptures, which will be organised in clusters, on foot by following public art trails in five areas of the capital – three in central London and two in outer London.

The sculpture trail is part of Transport for London (TfL's) celebrations to mark the Year of the Bus in partnership with London Transport Museum and the capital's bus operators, and is being delivered with creative events company Wild in Art. Over 100 submissions from artists and designers have been received and an event was staged last night at London Transport Museum to match artists with sponsors.

The project will be entirely funded by individuals and organisations sponsoring the bus sculptures, with the Year of the Bus Sculpture Trail running from Monday 20 October for seven weeks. At the end of the event, the bus sculptures will be brought together in a final display before being auctioned, with all proceeds split between three charities: Kids Company, Transaid and London Transport Museum.